Saturday morning I wanted to get a good start on my way to Chicago. Didn't want to be rushed and wanted to enjoy as much of the weekend as possible. Made it to the expo around noon.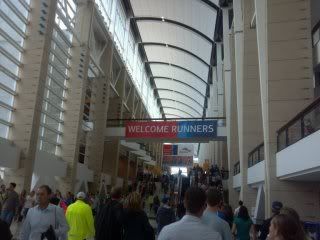 Just wanted to take in the event and shop (runner's paradise). I spent way too much money and spent a lot of time of my legs, but it was oh so worth it.
#ownchicago
Bart Yasso and I
#ownchicago Hell is the Regrets you have in life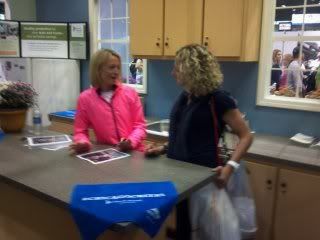 Deena Kastor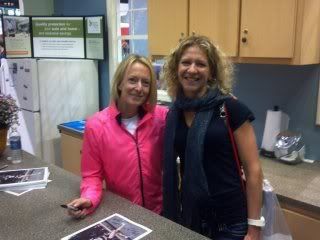 By the time I arrived at my hotel, I was pretty amped up. I tried to relax a minute, but decided I would head out and find my dinner and figure out my game plan for the morning. Noodle and Co. it was, taxi in the morning, and I laid out my outfit. Sent my last texts and hit the bed, thinking I might struggle to fall asleep. The good thing...fell right to sleep. I woke up a few times in the middle of the night, and a few minutes before the alarm went off, but overall it was a good night sleep. I ate my breakfast and got myself dressed. Took a selfie to sent to my parents and hubs so they knew what I was wearing when they were looking for me.
The bellman assisted me in catching my cab and away I went to check this thing out. I wasn't sure what gate to even go in, but the volunteers were wonderful, things were clearly marked. I walked over to gear check, sat down for a bit...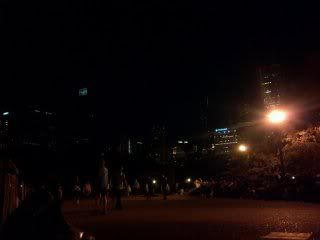 I sat and watched the runners coming in, chatted up the young man next to me, who was from San Francisco and looking to run a sub 2:45. Like most runners I meet, he was very nice, loved hearing about his training, diet and his goals for the day. I shared mine with him, and we went our separate ways, I dropped off my gear and starting heading toward the corrals.
Corral C was easy enough to get to, I again sat down on the curb and waited, choosing to rest my feet, and try to warm up, I was chilled by this time even though it was not that cold out. Finally, I decided that I wanted to move closer to the 3:30 pace group so I meandered that way.
Closer to the start I finally took off my sweatshirt and threw it into the dumpster for charity. Then it was time for the star spangled banner. One of the coolest things happened. As the singer's mic started cutting out, and coming back in the runners took over. From then on whenever her mic cut out again, the voices' of the runners carried on and brought us to the end of the song. Very powerful.
And like that it was Go Time. I had decided to hang with the 3:30 group for as long as I could. That was an 8:00 pace and what I knew I could do, for hopefully most of the way. This strategy worked. When I would go through aid stations, I would grab my Gatorade then use it as a quick pick me up to catch back up with the group. This worked, sometimes I would get a little behind or be right behind the pacers, but I kept them in my line of vision.
When I got to the half way point I knew my Ragnar blogger friend Marcia was on the course with a pumpkin head. I looked for her, and sure enough saw her. That was a huge pick me up to see someone I knew.
As planned, dedicated a mile to someone during the last half, take the pressure off of me. I'll admit I only did this so-so, it was not as focused as I thought I would be. I would think about someone else when my song changed, or when the mile marker versus my Garmin mile.-Yeah my brain was not fully capable of doing anything other than running.
I was able to stay on course with my pace until mile 17. Mile 18 I could feel it, at this point I just wanted to get to mile 20, knowing that I only would have 6 miles left. Doing the math in my head I knew I could still reach my goals barring major cramps, falling, sh*ting my pants, etc.
The last 3 miles were tough, but I kept thinking about something I read on Facebook that said "Die with memories, not dreams." This kept me going. Around the last mile there were tons of people and I was ready to be done, I didn't do a lot of looking around while I was running, but I looked up, not sure if I heard her, or just knew, but there was my mom (dad and hubs, too) cheering for me. I looked at them threw my hands up and blew them a kiss.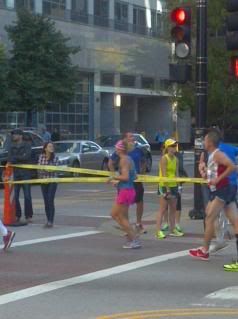 Running by my family
That is what I needed to finish the last mile. As I came to the 800 m, 400 m, signs I was happy, I even managed to pick it up for the last 100 m. I hit the Garmin and saw 3:35. Seven minutes off my PR, five minutes below the Boston Qualifying time for my age. I cried. I hurt. I was happy. I was humbled.
Made my way through to gear check, got my phone, decided where to meet my family, as the line to get into the runner reunite area was pretty long. Seeing my family got me a bit teared up again. These people are my rock, and have supported me through lots of miles and races, I was so happy to have them there to share this moment with me.
Mom and I
Dad, me, Mom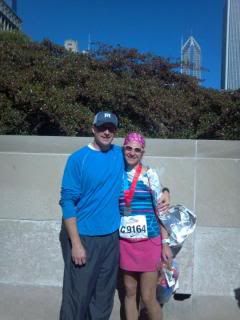 Jason and I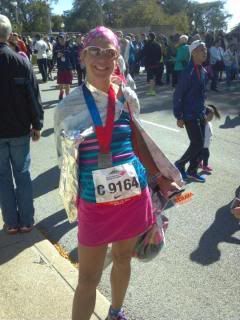 ME!!


We made the trek to grab some grub, unfortunately my stomach wasn't really ready to eat much yet. I did eat some fries and have a beer. Usually it takes me a bit and I am ravenous, this didn't happen for whatever reason. But Jason's sandwich looked good!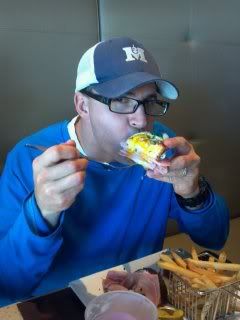 A Packers victory on the way home. I hung in there for as long as I could, but by 7:30 I was going downhill fast. My head was pounding, I had the chills, so to bed I went. Thankfully I woke up feeling great, not even as sore as I thought!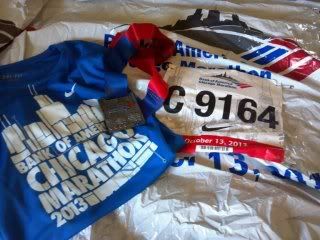 Went to school with my blue shirt on, and a smile across my face. I received flowers from my three cheerleaders (JB, JZ, and PMS) which was a great surprise. Again, my parents and hubs continue to be great supporters for me and I appreciate all they do to let me do what I love.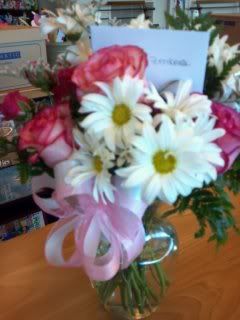 Chicago was wonderful all around, the texts, tweets, FB posts that I received were awesome. I feel blessed to have such great people in my life that cheer me on (even if some of them think I am crazy). I am humbled my the 26.2 miles again. It is hard. Every. Time.
Link to results and official pics: HERE