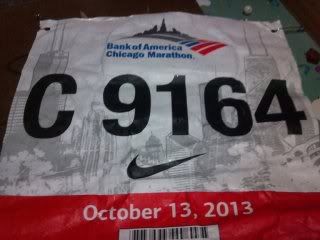 9+1=10 6+4=10 10 /10
So it's been awhile since I have been in high school, but a have a lot of memories of running cross country back in the day. One memory is my Coach 10:10 story that he always told us on 10/10 of each season.
Here's the gist of the story:
He was running a race in high school. He and his biggest opponent were going back and forth throughout the whole race. He finally broke away and won the race. He felt completely spent, exhausted, but happy that he beat the other runner-his time 10:10.
A week later he ran against the same runner. However, the runner didn't give him a run for his money, my coach easily beat him. Coach knew he had beaten the kid mentally and he would own this race. As he crossed the finish line he was almost afraid to hear his time, knowing that it wouldn't be anywhere near his time from the following week...his time 10:10.
I emailed my cross country coach on 10/10/13 wishing him a happy 10/10 day. I told him about my upcoming Chicago Marathon, and my goals for the day. Thanked him again for being an influence in my running life. He emailed back reminding me the importance of believing in yourself which is the one of the morals of the 10/10 story, and my sectional race my senior year of cross country-which was a race that was run with heart, no doubts.
The power of your mind, believing in yourself. My bib number last week adding up to 10/10. Coincidence? Perhaps, but I'd rather believe it was a sign to remind myself of what I can do.
Thanks Coach Miehe for instilling the love of running. Go Redbirds!