Bonus medal for doing the Icebreaker in Jan and Heatbreaker in July!
Although July has been less than average heat wise the past few weeks, the Heatbreaker offers something no other race in Wisconsin can in the summer. Guaranteed weather conditions. This past Saturday I went to the Pettit Center to run in the chill of 50 degree weather on their newly installed track.
One thing, as I have mentioned before about these races, is pacing for me is totally out. I don't like to do math when I run, so I don't here. Out go the mile splits and I just run by feel.
And that went well for me this time, the race has your laps on display on a computer and I do tend to look at the computer screen to see where I am at, and for the first time ever I actually counted most of my laps.
Having run here before for the Icebreaker and the Heatbreaker I have to mention the thing that I love about these races. The spectating. Yes, as a runner it is great spectating. Usually in a race, you see the back of someone and that is it, they are gone or you are. Not the case here. You get to watch the speedsters lap you, and you get to lap some people yourself. It is fun to watch, cheer and makes the time go by faster mentally.
Had a cramp at lap 20 which reminded me of last year's race, however it didn't stay and for that I was more than happy.
My only complaint was that someone walked off with my Polar Bottle. The strange this is is that this is 2nd water bottle that has walked away from me in the past two weeks. Last week when I went for a 7 mile run my Amphipod was leaking, so I turned around and put it on the corner of my driveway in the grass. I went to run 5 and came back to grab a drink and it was gone. I thought maybe the hubs picked it up before he left for work and put it inside. I finished my run but it was nowhere to be found. I was feeling a little sassy, so I left a note in my yard, but no return.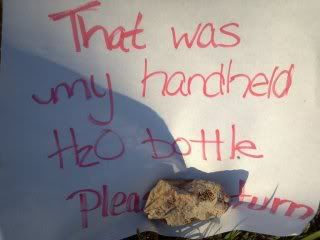 My snarky note I left on my lawn.
Apparently some runners are hitting harder times than me. So hope they are enjoying my water bottles. The nice thing about the Heatbreaker was that the Race Director heard about it and asked me about it. I know he felt bad, but there was no reason for him to. It happens~apparently more often than we knew.
Had a really nice visit after the race with a super speedy runner, who inspires me. She was doing the second heat of the Heatbreaker, and had a 10 mile race the next day! -Amazeballs!!
I had 16 miles on the schedule so I drove home and did 3 more miles. Jason and I ended the night meeting up with a friend, and running into some old friends.
Getting those carbs back in.
Another great race at the Pettit and I think this was my fastest indoor half yet :) 1:41:55