The sticker says it all-Every mile earned Never Given
Well I would like to say that this race rocked like my last few races, but unfortunately that is not the case. I have some good, bad, and ugly things about this race.
The good-My family came with me. I love it when they come to races, but know that it is not always fun to wait around while I am running. Green Bay-I love GB, Lambeau Field, and the hometown feel the race gives off. It is well organized, and spectators, volunteers are amazing.
The bad-The weather. For me. I have come to the conclusion that I am not a warm weather runner. Duh, not sure why it has taken me this long to figure out, probably because I am cold most of the time and hate it, but running is the reverse, I heat up quickly and am never cold on a run. So for me, it was too warm for me to do what I wanted to do.
The ugly-I wanted to do well at this race, and had every intention of putting my body to the test. See note above-I didn't change my game plan before the race even though I knew it was going to be warm.
My first few miles came in right where I wanted to be, and I was feeling pretty good until mile 9, that was it. Not going to mince words here, I felt like shit. I went from an 8:44 at mile 9 to a 10:00 mile at mile 10. The weird thing was that I felt slightly light headed, slightly nauseous nothing that was putting the alarms on, but I just didn't feel great. When I saw my family around this time, I told them it wasn't going well. I was going to have to do some walking. I asked them if they thought I could switch over to the half, I even told them to go relax and have a beer (Amy-it's 8:30 in the morning-we are not doing that).
Natia, me, Zori, Hayden, and Shaun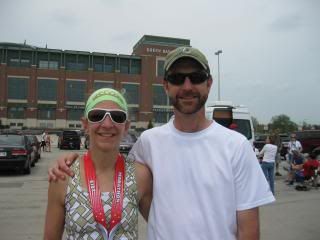 My cousin Shaun and I
I continued on my way-although I was feeling bad about my race I was feeling guilty that they drove up to see me do this and I wasn't doing well. When I saw them again, it was around mile 15 1/2. I stopped to talk to them, Jason said it seems like you need a partner, I said I do that's what he remembers saying. I remember him saying I could run with you, and I said yes, PLEASE!?!
Now I am publicly admitting that this happened, Jason took off his shirt and handed his stuff to my mom and hit the course with me. We broke down the run by water stops running most 1/2 to 3/4 of every mile and walking. I drank Gatorade and water at every stop, grabbed ice and sucked on that. He was apprehensive about being there, but was there for me. I think he must look pretty good as a runner, because he got a lot of support from spectators cheering. (he does look good with his shirt off ;) As we got back towards downtown he planned his route back to the finish. Without him I don't know what I would have done. Thank you Jason, you are the best!! I finished with my head up and a smile, but chalked this one up as a race that didn't go as planned.
Zori totally wanted to be in this pic, why not-couldn't do what I do w/o them!
My mom and the girls were at the finish. I was so happy to see them, and find Jason. We found my cousin, who had just rocked the half marathon in the parking lot with his son. We chatted with him for a bit and then went to eat.
Interesting take from the day. I drank more than any other race. After the race had the drinks provided, went to eat and downed 2 more waters there, grabbed a Starbucks for the ride home and didn't go to the bathroom since before the race until I got home, and my pee was still bright yellow-besides telling you too much-you know what that tells me, my body was hot, slightly dehydrated and HATES to run in warm weather. Ok, body you win. I will listen.
Marathon #6 in the books:
| | | | | | | | | | | | |
| --- | --- | --- | --- | --- | --- | --- | --- | --- | --- | --- | --- |
| Overall Place | Bib # | First Name | Last Name | Hometown | Age Group | Age Group Place | Sex | Gender Place | Chip Time | Gun Time | Pace |
| 764 | 370 | Amy | Zembroski | Muskego, WI | F35-39 | 46 | F | 244 | 04:29:30 | 04:29:55 | 10:17 |