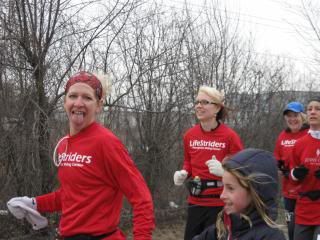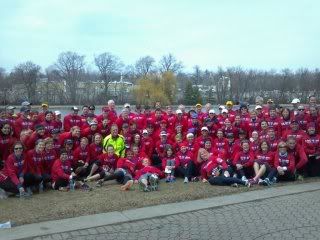 Life-
the sequence of physical and mental experiences that make up the existence of an individual; spiritual existence transcending physical death
Strider-
to stand astride,to move with or as if with long steps
As with many things in life, a person is often presented with many chances to make choices. Sometimes these choices are insignificant. What to wear, what to eat, when to go to bed...what happens when some of the basic choices we take for granted are taken away from us. For example the ability to move freely on our own. Maybe an accident takes away those abilities maybe we were born that way.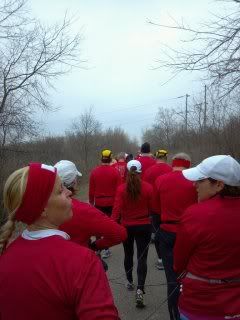 Last Saturday I had the opportunity to run as part of Team Lifestriders.
Lifestriders
is a non-profit organization that provides life-enhancing, physical and psychological experiences and services, to individuals with special needs. Through Equine-Assisted Therapy, children and adults can experience the beneficial physical and mental benefits achieved through the human-horse connection.
Our team raised money to for Lifestriders while attempting to break the Guiness book of World Records for the most people tethered together while running a half marathon. On top of all this awesomeness I recruited my Dad to partake with me. My 66 year young father who has never run a half marathon before. Squeeeee! I mean seriously, how cool is that!?!
I sometimes cannot stop talking but trying to sum this up in words is tough. So when all else fails I go for a quirky silly poem...
Not to see who is the first one done
A sea of red as we ran the trail
ots of talking and laughter so no one would bail
While we were running we did the wave
But deep down knowing we're not the most brave
The people whose lives are a constant struggle
The loved ones who give support and schedules they juggle
Our steps forward uniting for a cause
Our Running Reverend reminding us to pause
Should be replaced by greed
The day brought smiles and tears
Lots of laughter, lots of cheers
So humbled by the people rooting for us
Emotions ran high, too hard to discuss
To top all of that, although I was glad
I was tethtered together right behind my DAD
His first half marathon is now complete
Sharing that moment was quite a treat
I am so happy and oh so proud
that he did this feat-I am wowed