Ready or not...here I come!

Yes I am fully aware that my first recap of the Blue Ridge Marathon had no talk of the actual running of the said marathon. I'm here to remedy that and redeem myself with this post. I hope.
My morning shuttle had a mix of other runners, previous BRM runners and newbies like myself.When discussing strategies of the hills I mentioned that some people said to walk up the steep incline. Whereas the one lady in the shuttle replied, "I don't walk races." Ok. And she was one who had done the half before and done well. I was really not sure what I was going to do...only time would tell.
BRM stick for Boston, put on my bib.



At the City Market I waited for a bit with my hotel peeps until I found Angie and Krissy. We eventually headed outside with Nicki and Josh as well. Unfortunately, I checked my long sleeve I was going to throw away, and was a little cold for the start.


We held a moment of silence for Boston, and it was go time. The first mile ticked off pretty quickly I was around an 8 minute mile, which was good that I didn't fo out too fast which is my norm. Very quickly we were already heading uphill, there was no honeymoon period in this race, it was BAM hard. Right away.
I ran most of the first part of the first mountain, as did most of the others around me. I'm not a runner who remembers specifics of miles and details, because they all blur together. This is what my brain hasn't blocked, I couldn't believe that miles would tick by and they were either all uphill or all downhill. Or you would think that you were to the top of a hill because there was a flat portion, but the reality around the corner was a steep incline. I soon went to the strategy of speed walking up major inclines. I noticed the people running really were not going that much faster, and the mantra I kept thinking was that I had to conserve for the long haul. My left calf really was hating the downhills, and I wanted FLAT so bad, just so I could pick up the pace. I remember conscouisly thinking when the terrain was moderate, that ok, now it's time to really run.
Photo: Kemper Mills Fant Photography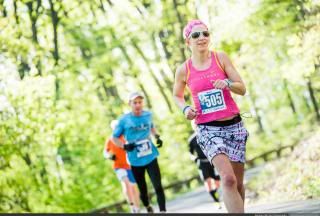 Photo: Kemper Mills Fant Photography
No matter what I tell myself, part of me is always a racer, so I would always have someone that I would keep my eye on that I didn't want to get out of my sight. Sometime it worked, I would reel them in, other times, they would get out of sight. After passing people back and forth usually we'd check in with each other to see how they were feeling. It was nice on turnarounds to get a thumbs up or a nod from these people. Josh was on a bridge cheering after he PR'd his half! Woot-woot!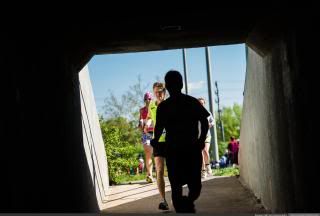 Photo: Kemper Mills Fant Photography
There really were hills throughout this whole course, even after we were out of the mountains. I remember seeing a parked car around mile 23ish with the both the Marine Corp emblems and USMC. That is what I needed to kickstart my mind to think of my brother and the recent victims who had lost a leg. I dug down and wanted to get it done. I did, and I was happy. As I came across the finish, I put my hand over my heart as had been requested. As the race organizer shook my hand, that smile radiatated throughout my whole body.
Finish SMILE! Photo: Kemper Mills Photography
I was able to see Paul at the finish and see how his race went, he rocked it! David and I reconnected, and as we waited for Nicki and Angie we got to talk with Bart Yasso a bit. He is such a great ambassador for the running community. His personality, charm and charisma makes you proud to be a runner, he does his job well.
I love this candid that was snapped of us. (see more)

Bart, David and I waiting for our friends. Photo WDBJ7

I'm thankful that we did hang out with Bart for a bit, because he let me know after the awards ceremony that I placed in my age group. Wait. What?! I was pretty sure he was wrong, but then again I didn't really want to argue with Bart Yasso, so I went back up to the awards area, and hot damn, he was right!
Getting my 3rd place age group award
How freaking cute is this!?!
I really was blown away by this, and knew then it was time for a beer to celebrate. Devil's Backbone was a local brewery so I had to try their 8 Point IPA and Congo Pale Ale. Delish. Finally, we all made plans to meet up for dinner later in the evening. The rest of the night proved to be fabulous. I went to Roanoke knowing noone, and now can't wait to reconnect with these amazing people at race(s) in the future!
The star, the night, the weeknd shines!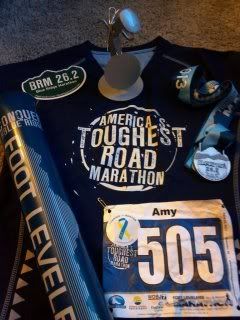 America's Toughest Road Marathon? Yes!!!!! Would I do it again? Y'all better bet your sweet tea I would.
Results:
Time-4:08:42
Overall-107/424
Sex-14/142
Age Group-3/24