All good things must come to an end.
A picture is worth a thousand words.
That is the best way to start this post. There is no way I can describe the last weekend in words, but I'm going to do my best.
First of all last Monday was the Boston Marathon...this was my morning Tweet:
I like many others, tracked runners from the elites to my friends I knew running. And then...
I was saddened, scared, and upset. I've read so much and have heard so many different perspectives, but am just happy that the running community is just that. A community, a family, a group that rallies together through tough times. We will forever have that fighting spirit that makes us unstoppable, resilient and strong. Together.
*just a quick note to say that all my friends were safe, one was within 100 feet of the second bomb, I am so thankful for their safety and my prayers to all affected.
That being said, I didn't really focus too much on my Saturday race like I normally would have. I flew out of Wisconsin early Friday morning. I arrived in Roanoke, Virginia, and as I flew in I saw mountains and I realized...this shit was getting real...I was going to run a marathon in the mountains.
After checking in I hopped on my shuttle downtown. I loved the feel of the town. We Mid-westerners pride ourselves on our manners, but southern hospitality was over the top, people were so friendly and chivalry is not dead. I grabbed lunch at On the Rise Bread I had their two-cheese veggie sub. I goofed up and forgot to cancel the mayo, but it was so good, I didn't even notice. I walked around town doing some window shopping, going into different shops, just taking it all in.
I went to packet pick-up early, got to snag my picture with the Legends, Living Legends as they prefer: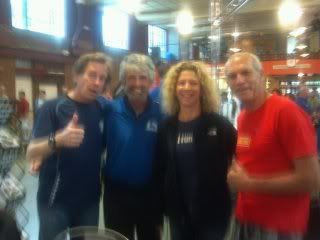 Bill Rodgers, Frank Shorter, me, Bart Yasso
I spent a bit more time downtown before heading back to my hotel.
Cuban coffee from Habana Cafe like espresso, but sweet.

The star on top of the mt I was going to run up.


Gear all ready before I head out to to pasta dinner.

I arrived at the pasta dinner, and met up with the David from #RunChat and Nicki, Angie, Josh, and Paul, other #RunChat peeps.
Angie, David, me and Nicki: photo by Josh (borrowed from David)




At the pasta dinner we were again reminded of how hard the course was going to be. (Thank you very little.) We were put into perspective on Boston as Frank Shorter spoke of being in the Munich Olympic village in 1972, sleeping on his balcony as he heard the shots. What Frank, Bart, and Bill said in all is that now is the time to keep running, and now is the time to focus forward. Runners are tough and together, and as Bill Rodgers inscribed in my book "Let's Run Forever."
I arrived back at my hotel and heard the door close on the second suspect, I was relieved, ready to go to bed, and I was ready to run.