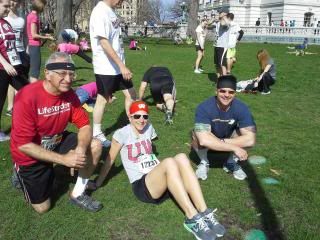 Dad, me and Jason prerace. Photo: Patti
After training for his half marathon for Lifestriders, my Dad wanted to give racing another whirl. We had recently reconnected with my Dad's cousin, Patti, through running and she was going to be running as well. We had done Crazylegs in the past back in 2008 (45:09). My husband (39:33) had done it with me (37:17) in 2011. We all decided that we wanted to better our times from the previous runs.
Actually to be honest Jason wanted to beat me. I didn't want to be beat, yeah we are competitive like that sometimes. I had only run one time since my marathon last Saturday, so I was unsure how my legs were going to respond.
I started back with Jason's wave start, so that we could hang out together before and so that we could start our "race" together. Our wave started about 13 minutes after the official start. Jason got off to a better start, dodging people left and right. I stayed behind him for a minute or so while we jostled, letting him think he was beating me. Soon though, I slapped him on the behind and cruised past. My first mile came in at a 6:47 which is pretty much a sprint for me. I wanted to maintain my pace as best I could, but knew I couldn't keep that I tried to calculate what I would need to do to beat 2011's time. At the turnaround I saw Jason, he was looking good, and not as far behind me as he had been the previous year. The rest of the race was holding on to pace as best I could. Taking in the sights and sounds, and finally heading into Camp Randall. I heard them say my name, as I came down the field. Stopped my watch and yes! I beat my time (36:06). I waited for Jason to finish, and knew he had beat his time, too (37:30).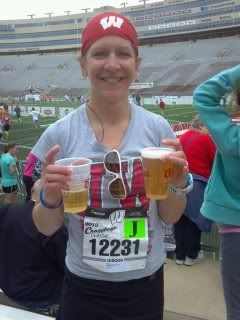 Post race refreshment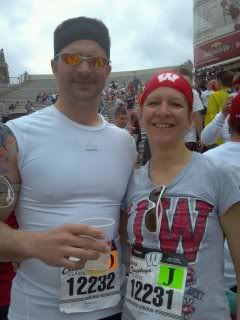 Jason and I
We went up to the stands where my mom was with the girls. I was watching for my dad when I saw Rachel finish! She came over where we were, and we went to grab our beers. Rachel went to find Linda and bring her back with beers in tow. It was great to see the two of them again.
Linda, Rachel, and I
We waited for my Dad to finish and he did beating his time from before as well (46:20)!
Patti
and her son, Ryan, join us, and she beat her previous time, too! Success!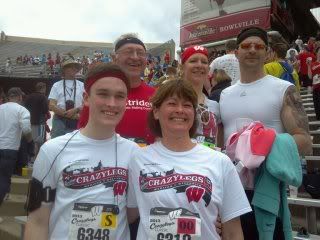 B: Dad, me and Jason F: Ryan and Patti
Dad and Mom
Favorite sign was something along the lines like this: You think you're tired, don't worry you have the same # of Tour de France titles as Lance Armstrong does.