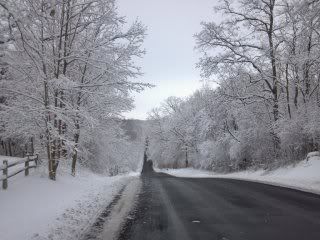 and I'm losing self-control
'cuz the power is occupying,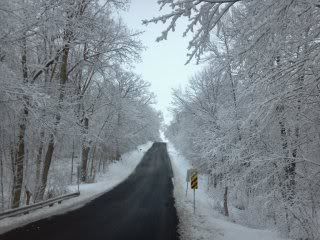 And with your legs its up to you
Your only thing that's going to carry you through
Nothing left, nothing left for me to do
Starting with a song really gets me going these days, not sure why but it works for me!
Saturday morning Bill and I had planned a hilly route that he knew of near Alpine Valley. I'm always game to try somethings new. I was a little nervous about the roads being snowy/wet but that defintiely wasn't the case. The wind bit my face a bit more than I would have liked, but as the run went on, we were both warm and it wasn't a big deal. We basically had a 6 1/2 mile loop, with the option of adding on 2 more miles if we wanted to do 15, which is what I had planned. At 6 1/2 miles we stopped at the car to gel up and grab a drink. The cool thing was that we did the second loop in reverse, running up hills we previously ran down. We did add the two miles on, but ran full on into the wind during the last mile my left eye was dripping and I thought it might freeze shut.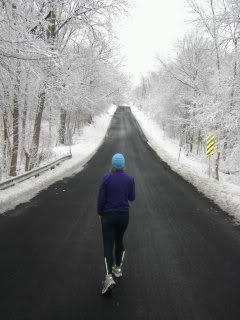 Once we finished we drove the loop and stopped to take some pictures, because it really was beautiful running.
Overall, it was not as bad as I thought, but I know I must revisit this spot before my Blue Ridge Marathon. The temps were below freezing this whole time running, and I am not going to lie, I hate running in winter.
There I admitted it, but I'm not going to let it stop me.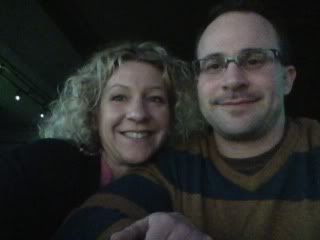 That night Jason and I went out to celebrate his birthday (which was Sunday). We ate at the Comet Cafe, had their meatloaf sandwich. Yum. Then we went to World of Beer and tried some tasty offerings. Sunday we went to our local marble top custard place, but it was closed for a staff party. So we DQed it and called it good.
Does winter weather get you down?
What do you do to beat the winter blues?
Can you send me some sunshine!?!?!