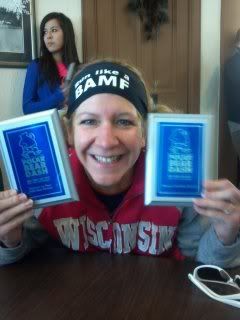 2012 is now is our past. 2013 is here with a fresh start. I have read many blogs, FB statuses and quotes about the new year and what it brings to people.
I resolve to get one year older in 2013 (Falon)
Don't buy "things" for one year (Kinley)
Reflect on the numbers that actually matter-the moments spent with the ones you love and the time spent doing "good" work (Julie)
Tomorrow, is the first blank page of a 365 page book. Write a good one. -various spots
That being said, I have no specific resolutions this year. This is an anomaly for me as I am a big resolution-er, and I typically stick to them. Two of my greatest resolutions in the past have been to not smoke and to always wear a seat belt. Glad I made those choices.
This year I want to continue to run and race, it is something I enjoy. Running is a way for me to model a healthy lifestyle for my daughters. I hope that my running now will enable me to be a better parent/grandparent in the future. I also hope that my daughters will learn about committment and perseverance- life long skills that they will be able to use forever. Of course my sanity and disposition are much better when I run, so it is another bonus for the family.
The girls and friend on NYE!
After a fun filled night at home with treats and eats, New Years Day arrived very chilly. I was looking forward to a 5K with a optional Polar Plunge into Lake Michigan. Standing at the start line, I though, no way, ugh. IT WAS COLD. Like 15 degrees.
Photo Tom Held http://theactivepursuit.com/author/tomheld/
However, once we got rolling I warmed up. My fingers went from being freezing in gloves to sweating. I was in a great position, which felt great. When we got down to the beach, the woman in front of me opted out of the plunge, I went forward towards the water. Now, I didn't quite plunge, but did run through the water-waves lapping at my legs. Being warmed up, though, it wasn't too bad, in fact it was totally exhilarating. I couldn't help but think ~wow, I am alive and kicking this new year into gear! Amazing feeling.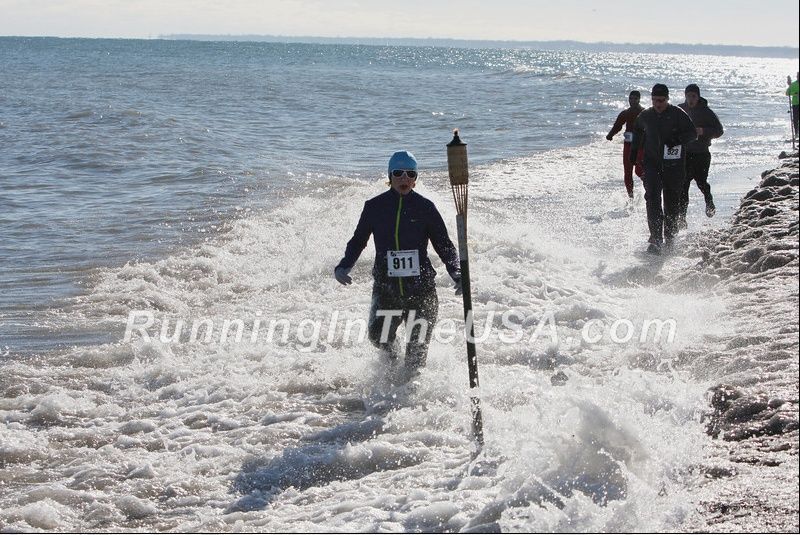 Photo Bill Flaws http://www.runningintheusa.com/
I ended up winning the Polar Plunge overall and taking second female overall (the other competitor did not opt for the plunge) I collected some hardware, which my daughters were stoked about.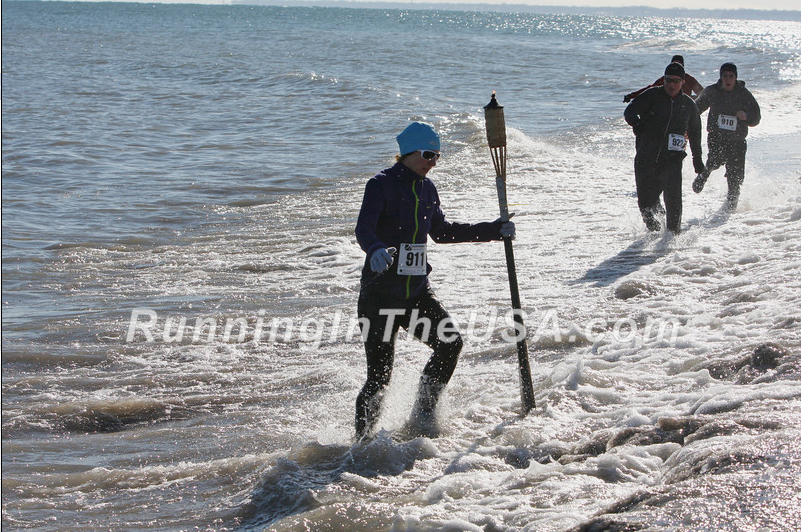 Photo Bill Flaws http://www.runningintheusa.com/
My reflection-I hope they have this inaugural race again. I would do it again in a heartbeat, and will take the full plunge to another level! So happy this event was added to Milwaukee's calendar, still smiling thinking about it!
The shirt and swag!
Happy that 2013 has started off with a splash! Hope yours did too! Did you make resolutions?
1st female overall plunge