Sometimes the stars align and things work out. It doesn't usually happen so smoothly so when it does it does, it rocks.
*Gold medal challenge consists of a half marathon Saturday morning followed by a full marathon Sunday morning (13.1+26.2=39.3)
Friday night my youngest daughter and I went to pick up my packet for the Icebreaker Indoor Marathon. We stayed to cheer on Bill's daughter as she ran the 5K. It was so fun to watch the three girls cheer on the runners, although I was afraid Zori was going to take someone out with her arm in her excitement. Even better was on the way home how she talked about wanting to run a race soon, too... I think mom can work on that for sure!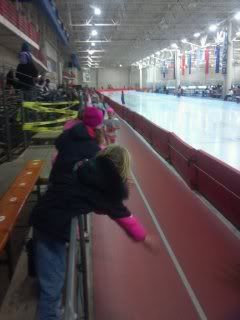 The girls high fiving Melissa
Saturday morning I woke up and ate my breakfast, brewed my coffee, and headed up to the Pettit Center. There are so many things I love about this race, add that it's a quick drive from my house-just another added bonus. I was a little nervous about this race due to the fact that I cramped up really bad during the Heatbreaker Half in July. Wanted to erase that from my mind. Ran into a lot of familiar faces, which is another thing I love about this race. Near the end of the race I heard the song I requested, which was a welcome pick-me-up. The second half marathon people were starting to arrive, so again more friendly faces to cheer me on, always a good thing.
The race went well. I ended finishing better than I have at the other two Icebreaker Halfs that I have done, so I was happy with that. I got to talk to Jamie aka Running Diva Mom before her race. We met here in person for the first time 2 years ago, and now we have done so many races together and shared some great times. Although I wanted to stay around to watch the second half, I knew I would be back in the morning and should spend some time at home. (and I had a hair appointment :))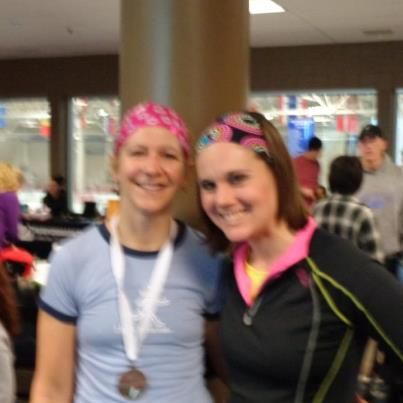 Jamie and I, I think Joel was a little shaky at our stunning beauty! ;)
Sunday morning I headed back to the Pettit for the full marathon. I was feeling slightly unprepared and under-trained, but went with the attitude that a finish is a finish. Bill and I started off together, maybe an hour into the race he had to use the restroom, so we went our separate ways. I was still feeling pretty good, and it helped that the volunteers, spectators were so supportive. The funny thing about running here, you get to watch super fast runners lap you, ice skaters skating, and you do get distracted. Instead of focusing on miles, I focused on laps, 96 is a lot. When I saw I had 50 in, I kept thinking ok, I have less than 50 left. Then when I had 40 left I thought just two sets of 20. If I would have done the math and figured out the miles, I think I would have freaked out it would have affected me more. So I just went with feel, and I was still feeling pretty good. Near the end, the volunteers at the aid station kept encouraging me, and another runner who had finished kept cheering me on. This helped. A lot. Getting to the finish, I knew I had a shot at finishing under 4:00. It didn't happen, I was over by 18 seconds, but I am fine with that.
I didn't think I could ever do back to back races, I feared taking on the challenge. I proved to myself I could, and am glad that I was willing to take the risk of failing to prove to myself that I could succeed.
I can't say enough good things about this race, if you are intersted in a 5K, half-marathon, marathon relay or full marathon, with spectators, AMAZING volunteers (they dance, cheer, do the wave, AND give you GU and your drink), delicious cookies made by Mary from Running in the USA, a race director and committee who ROCK, look no further...and if you don't want to wait until next year you can do a half this summer at the Heatbreaker!
And this...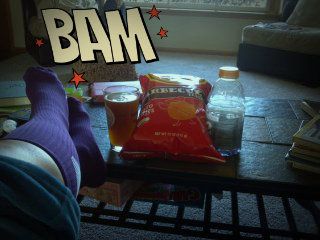 Compression socks, my favorite BBQ chips, a delish Pale Ale brewed by Jason, and a Grape G2. Recovery at its finest.
Results:
Half marathon-1:43:59
Full marathon-4:00:18
Total time-5:44:17