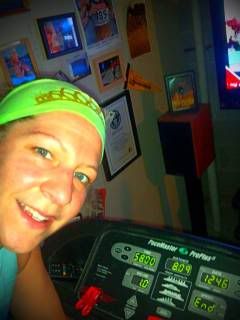 My 8 mile run on the last day of the world...12/21/12 ~wait never mind!
2012 was a crazy year for running. The weather was the major story. It was a hot racing season, but a fun-filled one also.
Here is a run-down of my year:
8 Half-marathons (including my 1st stint as a pacer)
1 Full marathon (as a pacer, my other planned full was canceled due to heat)
1 15K
2 Four milers
1 198 mile relay with some wonderful new friends
1 Tough Mudder which was 12+ miles
1 2 1/2 mile run (Alumni Meet)
1 100 Day runstreak, at least one mile every day!
Disappointment was training for Madison Marathon and only getting to run the half due it being canceled.
I didn't PR in the half this year, which was one of my goals, but I did in my second 4 mile run at the end of the year.
My mile goal was 1200 miles, and I am happy to report that I am only about 30 miles from 1400 miles, which will happen, so I am quite happy about that! I also took a couple age group awards, which is always an added bonus, since I tend to be most competitive with myself.
I am looking forward to 2013 and what races it will bring. I am already signed up for several races, starting right off with a race January 1st!
How did your 2012 running go? What are you planning for 2013? Hope to see you on the course!