The Ragnar ladies from the Panty Raiders decided to reunite at the Tyranena Beer Run. Maybe because it was at a semi central location, maybe it was because themajority of the race season was over, or maybe just maybe because there was BEER!
Right away I ran into Linda, and soon were met up with the other fantastic ladies of the Panty Raiders. We posed for a few pics and got ready to roll.
Linda, Kim, Kim, Amy, Rachel, Lisa, Amy, Falon, and Me
The music was great, the tent was heated, I was having so much fun, I almost forgot that we had a race to attend to. But all of a sudden it was 15 minutes before Go time. We headed out to the starting area, snapped one last pic...
Me, Lisa, Falon, Amy, Rachel, Kim, Linda, Amy, and Amy (yep 2 Kims 3 Amys)
Sadly, you cannot see our awesome panties. Funny thing is EVERY one else could. We were getting quite the stares from people. As we made our way, Kim the Killa and I went a bit more to the front, we were off, I only had a few moments of her backside before I she was gone. As she ran someone asked her if her outfit was "psychological warfare"...but of course! She nailed this race, 4th female overall and 2nd in her age group!
The race itself was overall pretty good. Mile three was a MAJOR hill followed by many more ups and downs. Damn. After that the only thing I did was think I had 5 miles left, then got to mile 8 realizing that I now had 5 miles left. What the hell, math is not my thing! I tried to keep my last miles sub 8:00 but couldn't hold on.
When the finish came, I was happy, done, and ready for some beer! Kim came and we went through the finish tent together, collected our medal, and then went out to cheer for the fellow Raiders.
Kim and I post race








Sadly, I wasn't able to stay and hang out with the Panty Raiders more as we had already booked a beer tasting event for that night. I promise next reunion I will be free of all other commitments!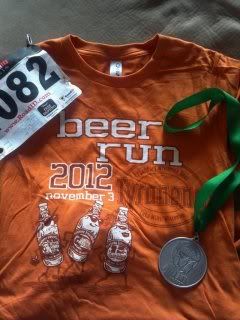 Stats-
167 out of 877 overall
3 out of 78 age group
36 out of 480 sex place
Time 1:44:10