To say I was a little nervous about pacing the Haunted Hustle, would be an understatement. The forecast for Saturday changed throughout the week from 80% to 90% to 100% chance of rain. Not only that, they were predicting severe storms.
I can hold a pace, had I ever paced a marathon before? No. Only a half, Once. Storms bring wind, wet, chafing, heavy shoes, yada yada yada...so I was stressing. Bill and I had discussed our nerves, our options, and decided we couldn't control the weather, but we could our attitudes so we were going to go out and have fun with it.
Saturday morning Bill called me right as I was about to park, found him and got rock star parking right near the start of the race. We got our 4:00 pace sign, and were in our "corral" when we saw our friend Jamie aka Running Diva Mom. I was happy to see her, because it seemed like forever. We got our pic taken and then the Star Spangled Banner started. It was Go Time!
We had a great group of people with us, several first time marathoners that we chatted up before we started. We were off. After the first mile I was warm enough that I knew I could toss my beloved long sleeved shirt from high school cross country. I waited until the 2 mile mark to toss it. Our pace for four hours was 9:09 splits. For the most part we were consistently faster than what we needed to be. What bothered me, was that from the get go the mile markers were off my Garmin. We were pacing correctly, but the mile markers didn't match.
Here is how it went down...there was some rain, there were some hills, there were some BIG hills. The course looped, we were on roads, country, suburban, nature paths, gravel paths, all very nice. The greatest thing? The people. I was surrounded by upbeat, happy runners. I didn't hear anyone truly complain about themselves.
I met someone before the midday point, who was my parents' age, and as we talked he knew who I was because he used to work with my mom. Not only that, he grew up in the same area as my mom, up north in rural Wisconsin. Small world. He was awesome, he was a rock, and he stuck with me. I was thankful for him. (He also had an awesome support team we saw many times).
Bill ran into a bit of trouble at mile 17 and said he'd try to come back with me. This caused me to doubt myself for a minute. What I did instead was look at each mile and focus on keeping each mile on pace, not how many were left. The biggest bummer was that we were not going to finish at 4:00 because of the mileage being off. According to my Garmin our 26.22 time was 3:59:10. We came to the finish., my parents were there. Yay! I was so happy to see them, and to be done. My glance at my Garmin said 4:03 and 26.64 miles. (chip time also was 4:03:07) In my excitement to be finished, I didn't really shut it off, and didn't notice that until I uploaded my information when I got home. Whoops!
Coming down the finish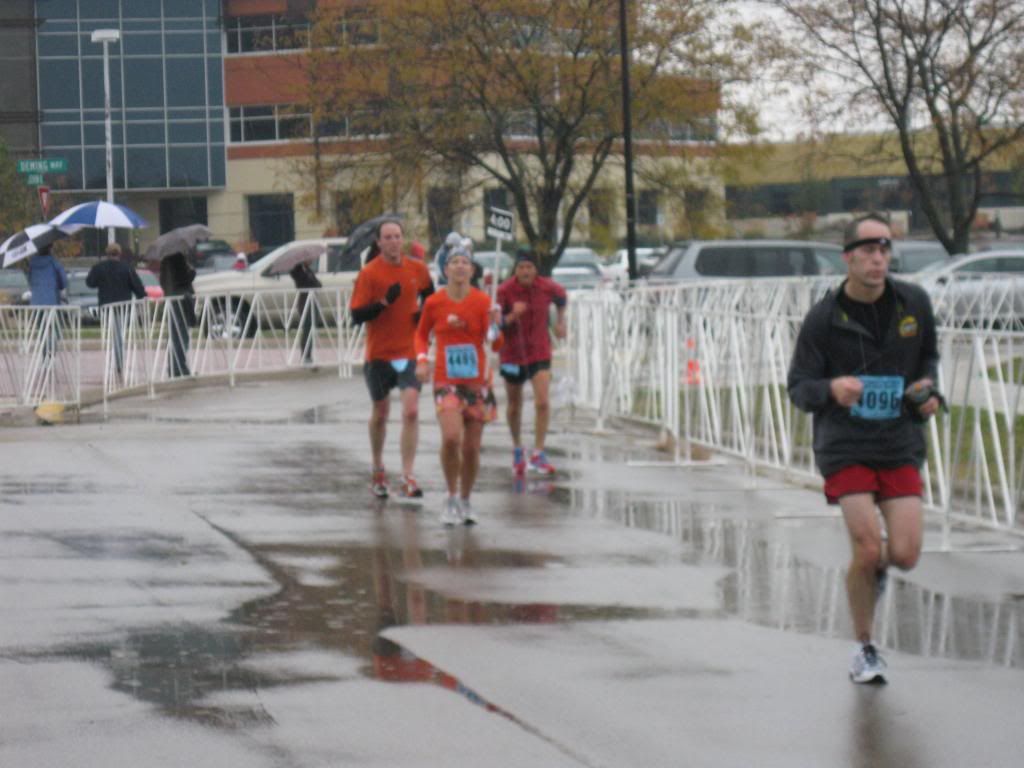 My mom's former co-worker in red to my right
Grrrrr...or something!?!
The other awesome ladies I saw after also confirmed they had ran farther than a half/full.
My Tweeples @krittabug and @tmgessner
SMILE-it's over
My parents were able to talk with their friend that I ran with, while I went to see about a massage. I was tightening up something fierce. The woman from Elements Massage made sure I had a therapist who did deep tissue. I went from barely being able to walk to feeling pretty good.
Yeah, she took a pic whilst getting a massage...
and another, and he ran the half that day, too!!
After that, I found Bill we all went back to the hotel area, changed, and chatted a bit. We saw our newbie marathoner still smiling, who did it sub four! Our lady friend from Texas also was there warming up in front of the fire place. Again, just great people all around!
My parents, my niece and I went to eat, do some shopping and then I headed home.
I really enjoy pacing and helping people get to their goals. The runners were great, I can't say that enough!
Marathons are a great equalizer, humbling. Much love and respect I have for them.
Have you ever run a race that was way off? Did they adjust time (Green Bay did 2 years ago)?
My splits...with the not shutting off...
| | | | |
| --- | --- | --- | --- |
| Summary | 5:01:55.3 | 29.21 | 10:20 |
| 1 | 9:05.0 | 1.00 | 9:05 |
| 2 | 8:55.3 | 1.00 | 8:55 |
| 3 | 8:56.6 | 1.00 | 8:57 |
| 4 | 8:59.3 | 1.00 | 8:59 |
| 5 | 8:52.4 | 1.00 | 8:52 |
| 6 | 9:00.8 | 1.00 | 9:01 |
| 7 | 9:03.3 | 1.00 | 9:03 |
| 8 | 9:00.2 | 1.00 | 9:00 |
| 9 | 9:05.9 | 1.00 | 9:06 |
| 10 | 9:07.4 | 1.00 | 9:07 |
| 11 | 8:54.6 | 1.00 | 8:55 |
| 12 | 9:10.2 | 1.00 | 9:10 |
| 13 | 8:56.2 | 1.00 | 8:56 |
| 14 | 8:59.3 | 1.00 | 8:59 |
| 15 | 8:59.8 | 1.00 | 9:00 |
| 16 | 9:11.7 | 1.00 | 9:12 |
| 17 | 9:03.7 | 1.00 | 9:04 |
| 18 | 9:09.7 | 1.00 | 9:10 |
| 19 | 9:07.2 | 1.00 | 9:07 |
| 20 | 9:09.2 | 1.00 | 9:09 |
| 21 | 9:14.8 | 1.00 | 9:15 |
| 22 | 9:11.2 | 1.00 | 9:11 |
| 23 | 9:30.3 | 1.00 | 9:30 |
| 24 | 9:28.5 | 1.00 | 9:28 |
| 25 | 9:19.0 | 1.00 | 9:19 |
| 26 | 9:39.0 | 1.00 | 9:39 |
| 27 | 40:18.1 | 1.00 | 40:18 |
| 28 | 23:10.2 | 1.00 | 23:10 |
| 29 | 1:03.5 | 1.00 | 1:03 |
| 30 | :13.3 | 0.21 | 1:04 |