TOUGH MUDDER.
Ok you've heard the hype "Probably the Toughest Event on the Planet" and it ain't no Warrior Dash...
Let's just say I was thankful that Friday night I was at a field trip with students and didn't get home until nearly 9:00. It allowed me not think about it (ok at least not too much).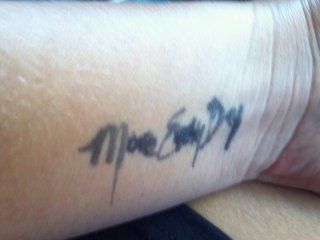 Saturday morning my GI tract was well aware of what day it was. We got the girls off and took turns playing our favorite songs on the way to meet our other TM teammate, Jill. I had all kinds of awesome coming through my texts from my cousin, Amy, who couldn't join us as originally planned. Because she couldn't be there physically, and I knew she was with us mentally I decided to bring her along with us the best way I could think of....
I could probably write a whole blog post on what my fake tattoo of her real tattoo means, but she already did so if you are interested read about it here MED
and fyi those two lovelys are my grandparents, too!
We met Jill at a gas station, she hopped in, and her mother-in-law gave us awesome directions which avoided traffic, and parked us close enough that we did not have to take the shuttle.
We were plenty early so we took in the sights and sounds. I tried to get Jason to get a mohawk, but sadly he turned me down. We watched people get shocked at the electro-shock therapy right at the finish. I even ran into some some people from back home, who made reminded me of the bigger picture of the Tough Mudder. Wounded Warrior Project. RIP Jakob Roelli
Here we are pre-race, smiles and clean. Ready or not! One of the first obstacles was the Kiss of Mud, we were soon covered with mud. I am pretty sure I had the biggest gob in my eye without a clean hand to wipe with. Jill's friend saw us as were were coming out and caught this pic...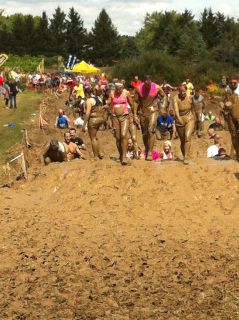 We are trying to stay upright, cause it was slick.
In a nutshell here is the rest of the 11 1/2 miles and obstacles.
My knee took a beating. My fear of heights were tested, and my teammates were super encouraging. My love of running helped me more than anything, our team really did not walk. Monkey bars (incline up and back down) we own you. Rings-not so much, kicked our asses.
Jason truly amazed me, he is a freakin' monkey and made super hard things look easy. He did a flip off the Walk the Plank, scaled up Mt. Everest in one bound. Hoisted us up time and time again.
Jill, one tough mama-she gave birth 6 months ago, her heart had an episode that she sometimes gets-did it slow her down-hell no!
Going through a dumpster of ice is freakin' cold. I have a new respect for firefighters-the burning bales were tough to get though, eyes, throat, ugh!
At the end we got bottlenecked and that sucked. It was hard to stop and wait when we wanted to keep going and be finished.
Electroshock-I went through unscathed, Jason took a hit, and Jill took a hit that dropped her to the ground. They both said it was intense and painful.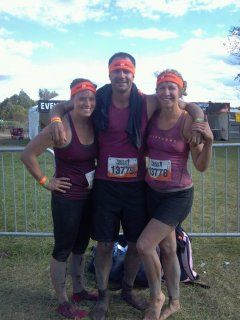 Happy smiling finish faces. We went to a stinking pond to wash up, found out the showers were back running. Did a nice interpretation of Tommy Boy because they were COLD.
We learned many things...
What not to wear. What we would wear next year. What time of day is better, size of team, etc. etc. etc.
My knee is feeling better, my upper body is not as sore.
Tough? Yes. Awesome? Yes. Would I do it again? Hell yes! Let me know if you are interested!