This morning as I was washing dishes, packing lunches, arguing with Z about what to eat for breakfast, N about what shoes matched. I thought to myself-here is an awesome post about how hard it is to live a balanced life being a working mom, wife, runner, reader, etc.. etc..
Then Jason walked in after working two days and two nights straight (ok, he came home for a nap from 4-5 yesterday and then 8-10). It was 6:30 a.m. He will try to go back to sleep and wake up and go back in. He is exhausted, tired, but smiling when he sees all of us.
So instead of bitching about how busy we are, because Really!? We all are busy.
I decided to do what many bloggers do, write about what I am thankful for today.
1.
Most obviously, my husband and daughters. They amaze me every day.
2.
My said job that takes me away from family and home. I love my students, the hugs, laughter, the swag of the middle schoolers (hee-hee, they sure do think they are cool), the colleagues, a new one who LOVES reading-check her out Mrs. Heise, the fantastic library where I get to work. The diversity of my students, the culture I get to learn, the language I get to sit in on.
3.
My running. This week I have gone out for a run way later than I ever would during the summer due to time. It is awesome to run west towards home to the beautiful sun setting. I'm working on getting back on the treadmill in the morning.
4.
Technology. My parents are out of country, yet we can still chat on FB. My niece rocked her last two cross country meets, and I am able to text and find out immediately. Keeping track of old friends and meeting new friends has never been easier.
5.
The weather. I am the first to admit that Fall is usually a depressing time for me. I have struggled in the past with its arrival. This year, I am embracing it, enjoying it, and sweating a few liters less (although not much-damn I'm a sweat hog).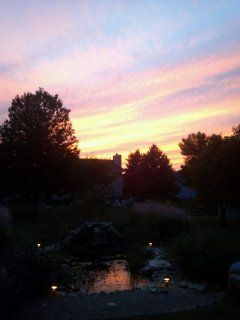 6.
You. Whether I know you or not, it's nice to know you took the time out of your busy day to read about mine. Thank you!
Note: I wrote this during my lunch break today, shortly after, I received a call from the company whom my parents are traveling with. After playing phone tag, I found out their group was robbed today. I don't know details only that all are ok. The group was shaken. I haven't heard from them yet, but am so THANKFUL they are fine.