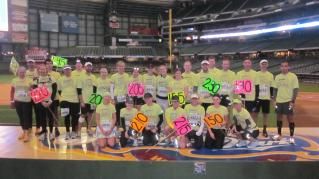 Saturday morning I woke up ready to roll for a great morning. The temp was warmer than what I expected. I headed to Miller Park to meet my fellow pacers for the Inaugural Brewers Mini Marathon. I was excited and nervous, as this was my first time pacing a race.
I even saw a star on the drive there, so I figured maybe the rain predicted would hold off...fast forward 20 minutes to the biggest bolt of lightning streaking across the sky. Soon after we were all asked to move inside the stadium, and told the run start would be pushed back.
We took a few pictures standing on top of the dugout (until we were kindly asked to get off). The weather outside was a downpour, but we were told it was to move over quickly. It did and soon we started the race. I was pacing with 2 other lovely ladies, Anne and Liz.
The rain subsided and I soon warmed up, shedding my long sleeve and tying my rain jacket around my waist.
We kept a consistant pace from the start. It was great as we hit each mile and were able to tell the runners that they were right on track. We toured some Milwaukee landmarks...Potowatomi, Palermo's, Harley Davidson, The Domes, through Marquette, down Miller Valley where the sausages were waiting with high fives. We headed to Miller Park, yes there were some hills, yes there was some wind, but we were focused on time and keeping it. That was all that mattered. We came in through Miller Park ran around home plate, back out, all the while images of us were being showed on the big screen.
We heard cheers for our 1:55 pace group. As we headed back outside, the wind attacked us again, but the finish was close. My Garmin said 1:55:18 so we did a great job keeping us on track. I heard someone yelling my name at the finish, still not sure who that was.
Unfortunately, I was chilled to the bone after. I went and got into dry clothes, but didn't feel much like sticking around.
I loved the experience of pacing. The runners thanking us for holding pace, telling us they wouldn't have been able to do it without us. Holding the sign, I have to admit sucked in the wind. Would I do it again? Absolutely! Also, I think I would consider using a pacer sometime, too.
Have you ever used a pacer in a race? What did you like, dislike? Would you do it again?