As summer starts to wind down for this teacher, it's time to squeeze in a few last things. Last week we one of my daughters and I went to Six Flags Great America with a friend. Here are a couple pics:
Welcoming us to Six Flags


We also hit the Wisconsin State Fair on Friday. We ate some treats and saw some great animals!
Wienermobile!
Chocolate covered bacon on a stick!












We had also planned to go camping on Monday. Monday turned out to be rainy, so we cut it short one day and postponed it until Tuesday. We set up camp, started a fire for lunch, went down to the beach. Rain came, we had our daughters save what they could (and they did a fabulous job). We were able to restart a fire after the rain for our foil dinners. It was a success!!
Our fire after the rain!
Former lifeguard (me) checking out the swim test!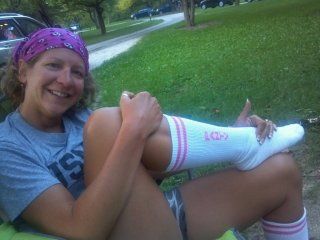 Panty Raiders socks for when it started to cool off!
My sinuses are killing me, but I'm going to enjoy this!!!!








The cool part about these last days of summer is that my run streak has continued.

Today marks my 81st day

. I've been fighting a nasty sinus/headache/cold this week, so a mile is all I have been doing this week. I have been busy running here and there, but the Run Streak keeps me on track, accountable, and most importantly-no excuses. You can get it done, find a way! I really feel I need a long run though, my body tells me so.
What has motivated you this summer to keep going? What has challenged you to get a run in?