My niece came to stay with us for a couple of days. Instead of meeting halfway to drop her off, I decided to pack up the girls and spend a few days with my parents.
Usually when I go home it is for something specific. A holiday, a community event, a friend get together. This time, there was nothing planned, which made it more enjoyable. Tuesday night, we ordered Chinese food,a treat for me as my girls do not like it, therefore we seldom eat it. It was very good even though I was teased about my "toad food" aka tofu. My brother came over as well, so I got to spend some time chatting with him.
Mmmmmmm
Wednesday we lounged around in the morning. At lunchtime mom and I went to Mineral Point. With a stop at the The Barn Shops we picked up a few things. We ate at Brewery Creek Brewpub in Mineral Point. Their food is always so flavorful, I had a jalapeno beer cheese burger. Delish. Of course being a Brewpub, I also had their wit beer.
After that, we were given a tour of the newly acquired Walker House. The Walker House is, according to its website, one of the oldest functional buildings in the United States. With a history of hauntings, however, it has always been held some mystique for me. The project manager, Randy Larson, explained the direction they are going and the positie approach they are taking in getting this buiding back running. His positive attitude has me convinced, with gallery nights, future inn rentals, this place will be a great addition the already thriving art scene in Mineral Point. Some pictures: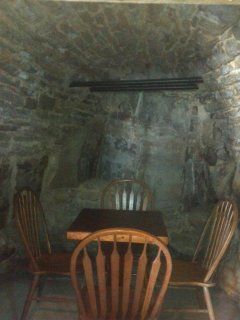 Cave cut out to dine in.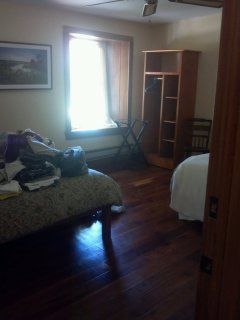 A room upstairs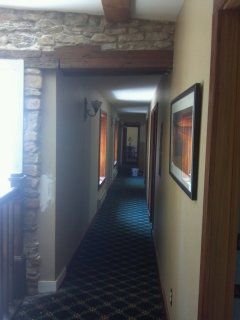 Hallway upstairs
When we got back home, we loaded up the canoe and headed out to Yellowstone State park.
Yellowstone Lake
This was my view as the driver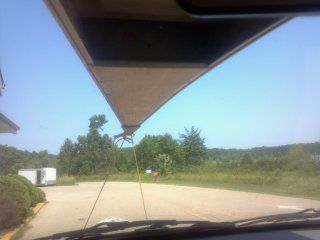 We got on the water, and took a tour around the lake. We saw some jumping fish, egrets, minnows. It was fun being on the lake.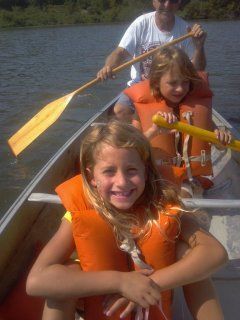 Middle and back of the canoe
The front of the canoe
My girls still wanted to swim after we were done, so we headed to the beach. Haleigh and I did more spectating, byt Grandpa got in with the girls.
Swimming!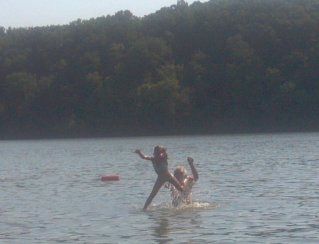 Grandpa tossing Z!
Of course my girls still wanted to head to the pool as I had promised we would go. After dinner we trekked up to the pool. This is the pool that I worked at through college. After watching them swim for a few minutes, I decided to get in, too. Natia and I went off the board a bunch of times. We worked on touchingh the bottom of the pool, and of course had a slushie before we left. I still had a run to squeeze in and it was getting dark. I did a quick mile running back up by the pool, and since it was down hill most of the way home I cranked out a 7:15 mile on the way back home.
The pool!
Thursday morning, I went out to my dad's cabin. Natia helped me pick a tree that we are going to transplant.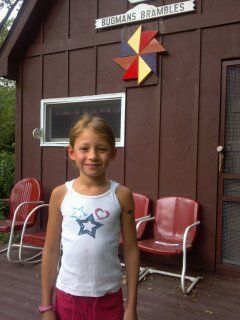 We found one that looked suitable. I let her and grandpa stay and dig it up, while I went back home to start packing up the car.
I had to save room for the tree of course. This is what we looked like on our drive back home.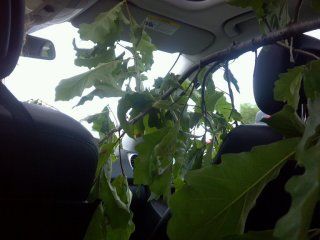 There is something nice about going home home. I felt relaxed, recharged, and peaceful. Sometimes we get so busy doing all these things that we feel are important, we don't stop to not do things that are just as important. Does that make sense to you? It does to me.