The Alumni
My Cross Country coach has always determined Varsity by hosting an Alumni race, inviting graduates to come back and run. The first seven spots then make up the Varsity team for the first meet. I have gone back and ran this race off and on for many years. This year was special for me because my niece was running this race as a senior. She was born during my senior year of cross country, so it was surreal to think of the lifetime of running that has taken place in 18 years.
Many people think that because I run long distances this race is easy. I knew it would be fast, something I no longer run. When my first mile clicked off in 6:36 I knew I had to slow it down, or my lungs might explode. I finished in 18:02 for the 2 1/2 miles. I was pleased with that, second alumni and eighth overall. My only regret...forgetting to snap a picture with my niece after. Jason and I ran two miles back to my parents after the race, hitting way too many hills. :)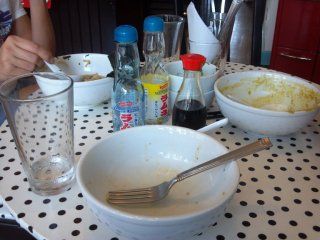 Delish fried rice, curry, and ramen!
The rest of the day was filled with fun, I had my nails done, went to lunch with two of my friends, (one was home puking-which sucks). We tried a new restaurant in Mineral Point, Kusaka. The food was very good, however, the wait was very long.
Jamie and Heidi
We were going to head back home, but after assisting my parents in a pond makeover, Jason was tired, so we decided to join my friends for pizza and drinks at Uno's in Platteville. I love their pizza, and really love their Long Island ice teas, I had mine with strawberry lemonade instead of soda, delish. We were also able to meet up with my brother and his wife.
We met my parents at a church festival when we got back to town, running into a few more friends that I don't always get to see.
Drew, Jason, Christina, and I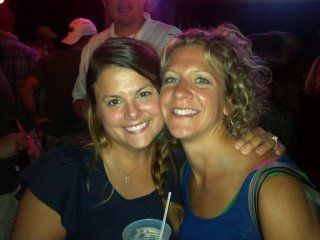 Heidi and I
So although I was tired on Sunday, and only ran a mile on the treadmill, it was worth it. My streak is coming to an end on Labor Day, today is day 92.
Such a great weekend, great friends, great food, great drinks, great time. How was your weekend? What are your plans for the Labor Day weekend?