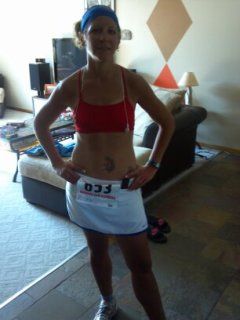 After all this hot weather, no longer self conscious about shirtless running!
In case you haven't been privy to the weather we have been experiencing in Wisconsin, let me sum it up in one word...HOT! And if you have been following my blog, you will know that the majority of my spring races have been unseasonable warm (HOT). So it should come as no surprise that on the 4th of July, it was HOT.
Tuesday night was the third, and when our community does its fireworks. We headed over to a friends house without the girls as they were up north with my in-laws. We had a great time relaxing, eating, drinking...all things that I normally would not do before a race, but a holiday is a holiday!
Jason throwing bags on the 3rd!
We got home and to bed before 11:00, so that wasn't too bad. When I woke up the weather was already in the 80s. I made the decision not to run with my Garmin, just a regular stopwatch, hit the sprinklers and have fun with this race. I saw a few people I knew before the race, so I chatted with them, even a Jennipede alum! The race took off and away we went. There were quite a few people out there running, I tried to stick to my plan to not overdo it. A running friend Jenny zoomed by and said hello. I was tempted to try to hang with her for a bit, but stayed smart and ran my own run. The miles went by rather quickly, but after mile 2 it really was HOT. I dashed through as many sprinklers as I could. They were awesome. Thank you Hales Corners peeps! I had frozen some Gatorade in my handheld, so that stayed cool the whole race. I was pleased with the run, wanting to be around thirty minutes, and was only off by a bit. After the race I was able to chat with Jenny some more, and Luai who was directly in front of me during the Jennipede.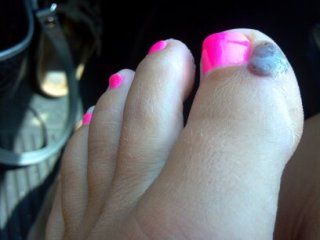 My blister on our 5 hour drive up north.
A quick shower and we were on our way up north, where we got to see our girls who we hadn't seen since Sunday, yay! More on our trip to come!
Our girls!!