After a discussion, it was decided I would try to write this race recap as a poem...There is a lot to say I know, some lines might be a stretch/corny...but hey that's me!
On Tuesday Madison Marathon, let us know
Because of the heat-that the FULL may be a no-go.
Weeks of training put to rest,
This taper week was supposed to have no stress.
Instead I found myself double/triple checking the weather
Hoping like hell they were wrong & the race would come together.
Facebook comments and tweets where opinions were definitely being heard
Some people made great points, while others were just absurd.
Friday afternoon we finally found out
The full was canceled, there were no more doubts
With the answer in place, knowing now it was 13.1
I went to my daughters' concert out in the nice sun.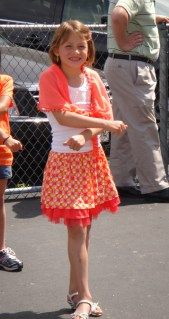 2nd grade strut
They sang and danced about the rainbow
Afterwards they showed us their portfolios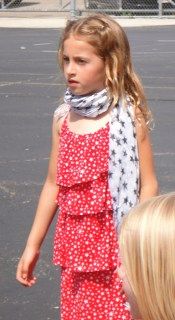 Kindergarten kicks
Saturday evening I went to Jamie's (Running Diva Mom)
Who graciously allowed me to sleep over-she is the bomb!
We woke up at 5, ate dressed and drove to the square
We parked, and easily found Linda (Mom Running from Cancer) there!
Jamie, me, and Linda pre-race






The wait for the port-o-potties was long...
By the time we were finished they were singing THE song.
We parted with Linda, before the start
But the crowded chute didn't allow us to get too far apart
The first miles were a jostled mess, moving to and fro
Finally I found a comfortable pace, relaxed and let go
Falling down at mile 7 definitely did suck
My apologies to the families there that heard me yell F@#K
After finishing up mile 10
The sun was out and pace began to rescind
Shortly after that I saw my family three
The most important people who mean so much to me
Blowing kisses to J and the girls






I was looking forward to the end
The uphill finish and up around the bend
Jamie and I post race
Chatted with a fellow Jennipede-Paul, found Haleigh, mom and dad
Looking for Linda and Jamie who found me instead, so I was glad
We passed off our kids, and went to a cupcake shop
The delicious treat was perfect-salty caramel on top
Jamie, Linda, me, and Jenny






Jason and I were soon coffee bound
We had wonderful organic fair trade coffee that I could have drank by the pound
After figuring out parking, hotel...details mundane
We headed for lunch at the Great Dane
Jason and I (American Pale Ale and English Pale Ale)




An afternoon with nothing to do
Wandering around Madison having a brew
Jason and I putting aside our political differences




We enjoyed a wonderful evening walking around
With no kids voices-it was an unusual sound
Memorial Day Monday we got our caffeine fix
Took in the services at the Capitol with Veterans from foreign conflicts
My hometown's hero, a fallen son, was mentioned there,
Roses were placed on each of the 10 empty chairs
10 Wisconsin soldiers since last Memorial Day




Met my parents, picked up the girls
Drove home to the pool to give it a whirl
A relaxing weekend it was so much fun
How did I end it...with a nice two mile run!
671/4390 overall